2022-01-18 - 11:19
A total guide for buying a new server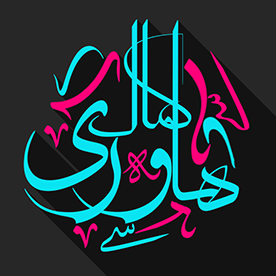 Hawre Kamal
Dell produces a variety of different types of servers, each of which can be arranged according to your needs and requirements. Avesta provides all Dell servers in Iraq and has specialized staff in servers that can recommend the best server for your work.

What's server?
Simply a server is a powerful computer that serves a range of other computers, specifically designed to deliver information, software, and data to other computers that are linked to it connected to it via a network.

Why do I need a server?

Are you using two or more Computers in your business? by storing and organizing your data in one place, you can easily access and share them among users, and manage business information more efficiently.
Are Some of your employees work remotely? Some of your employees may work at home or frequently traveling, so you will need a server to allow these employees connect to your company's network remotely and work wherever they are.
Can you afford to lose valuable files and data? Having a server can help you organize your data in one place and protect them from being lost, corrupted, or stolen just by backing up your server and installing a recovery system for it.
Do you need to host your own web site? A server lets you develop and manage your own website easily so you can conduct business more easily.
Do you need to share access to peripherals, such as printers and fax machines? The server makes your entire office connected to the printer and fax machine and let employees easily print their files. Plus, servers take the load off your local computer and put the jobs into queues to print or fax next in line.
When buying a server, you should consider three things:
Server type: Tower, Rack, and Modular (Blade)
hardware configuration
server software

What type of server do I need?
You need to know what kind of applications you're running on that server? How many users(clients) it will have? Simple tasks such as printing and sharing documents among users may require one simple, low-cost server, but tasks such as hosting large databases and image libraries require a server that has more processing ability with a set of fast hard drives.

Tower server: One of the basic types of servers, it costs and takes up as much space as the average desktop you can place it vertically on the table. because of its small size, it takes a small space in your office. It's good for small and medium businesses, especially if you need only a few servers and you can't add a Rack server.
Dell has several models for this type of server and the generation of the 15 is the newest Dell servers:
Generation 15: T150, T350, T450
Generation 14: T40, T140, T340, T440, T640
Generation 13: T30, T130, T330, T430, T630
Rack Server: These types of servers are horizontally created and inserted into the Rack to protect it against dust and unauthorized people by locking the Rack. It also takes less space, because if you have multiple servers, they can be placed on top of each other. These servers are used for small, medium, and large businesses based on their models and features.
Dell models for The Rack Server:
Generation 15: R250, R350, R450, R550, R6500, R650xs, R6515, R6525, R750, R750xa, R750xs, R7515, R7525
Generation 14: R240, R340, R440, R540, R640, R6415, R740, R740xd, R740xd2, R7415, R7425, R840, R940, R940xa
Generation 13: R230, R330, R430, R530, R530xd, R630, R730, R730xd, R830, R930

Blade server (or modular): This type of server is a set of small-size servers in one box so that you can manage all servers together. These types of servers are good for large projects when you need to use many servers, especially if you want to create a local cloud. The Blade server means more processing, less size, less energy, less cost for management.
In Dell's model for this type of server:
Generation 15: MX750c
Generation 14: FC640, M640, M640, MX7000, MX740c, MX840c, MX5016s
Generation 13: FC430, FC630, FC830, FD332, FM120, M630, M630, M830, M830
Recognizing and identifying Dell servers:
All Dell's servers are called PowerEdge, which is the company's naming policy, and Dell Storage are called PowerVault and the switches are called PowerConnect. So how do we understand the Dell PowerEdge series of servers? How to read the models?

Three-digit model: For example, T550
The first letter is the server type. T means Tower, R means Rock, M or MX means blade or modular, C is a special type of blade optimized for computing, F means flexible, XE for hard work that requires a lot of storage and very good performance, XR is dedicated to industrial organizations to withstand a very difficult environment.
The first number is the number of sockets, 1-3 means one socket, from 4-7, is two sockets, 8 can be two or four sockets, 9 means 4 sockets.
The second number is the generation of the server, 0 is the 10th generation, 1 is the 11th generation, 2 is the 12th generation, etc.
The third number is the server processor, 0 means the processor is Intel, and 5 means the processor is AMD.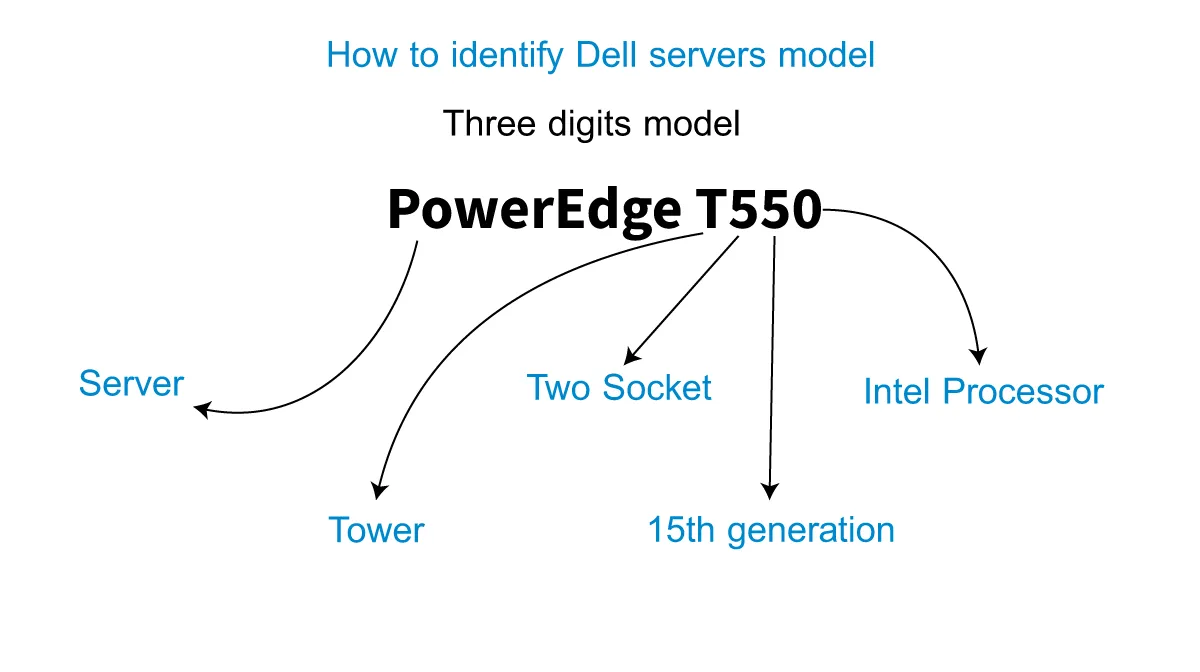 Four-digit model
: for example, R7515
The first letter means the server type, the characters have the same meaning of the three-digit model.
The first number is the class of the system, from 1-5 is iDRAC Basic, and 6-9 is iDRAC Express.
The second number is the generation of the server, 0 is the 10th generation, 1 is the 11th generation, 2 is the 12th generation, etc.
The third number is the number of sockets on the server, 1 means one socket, 2 means two sockets.
The fourth number is the server processor, 0 means the processor is Intel, and 5 means the processor is AMD.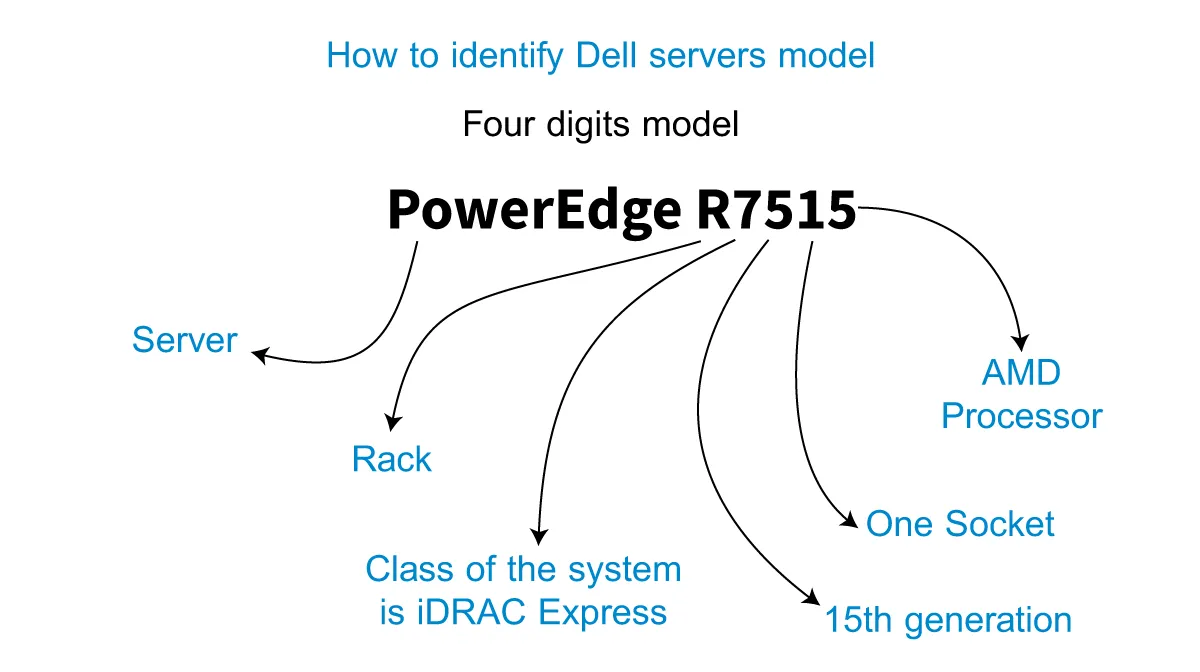 After that we come to the server hardware configuration, which is one of the most important parts and has a complete impact on the server's performance.

The first thing we need to choose is the server's Chassis, which has different types, how many hard drives it contains? Have raid or not? How much electricity do you need? According to your work and needs, you must choose one.
After that, We're coming to the Motherboard, one of the most important parts. The first thing we need to determine here is how many sockets this server has. This is very important because the number of sockets are the number of processors that you can add to that server.
And in the processor, we need to consider how many cores it has, how fast is it? The capacity of its cache? And the clock speed?
Then we must choose a ram for the server according to our needs.
Then we need to select Hard Disk for our server, whether it's SSD or HDD, or NVME?
You may need to consider the Power cord type.

Another point we might hear is that this server is 2U. What does this mean? U means Rack unit, it is the server height, which can be 1, 2, 3, or 4U.

Then we need to choose an operating system for the server, and here we have options such as Windows Server, VMware ESXI, Linux Red Hat Enterprise, or Linux Suse Enterprise.

Avesta company is the authorized partner of Dell in Iraq and can provide all its products for you and with our specialized staff we recommend the best and most suitable server for your work.