2022-03-10 - 01:10
Cloud or On-Premises?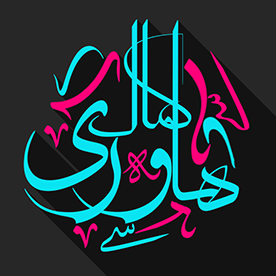 Hawre Kamal
In recent years, business technology and management has been developing continuously. And what does this mean for businesses and companies? How can they adapt to the latest changes of the day?

Businesses from small and medium-sized enterprises or large organizations are constantly racing to provide their customers with the best services, and the development of Cloud services is a good partner in their mission, speed of the market, and its ability to adapt to the changes is a key for a successful business, so the question is constantly facing businesses and companies is whether to use the cloud to manage their organization or their own on-premises infrastructure? In this blog, we will discuss the pro and cons of each of these two approaches.

First, let's ask what's cloud?
In the simplest form, the cloud is the process of using a remote server through the Internet to use resources such as e-mail, networking, storage, data, software, and programs, managing and processing data, analyzing data, and protecting this data is the responsibility of the provider.


In terms of the ability to process and store data, we can say that it is unlimited. This helps business startups to compete in the market, as they only pay for what they use, they can get the the resource they need with just a few clicks and remove it whenever they don't need it anymore, according to market and consumer demands.

Cloud is not only about storing data, but also about communication and assistance. In the cloud, a specific party provides electronic infrastructure, and in return, businesses can benefit from these services via the Internet and by paying a specific fee, which means you can use hardware, software, and data with the cloud.

How many types of cloud service do we have?
Generally, we have three types of cloud services, an electronic and IT system for managing organizations and companies contain several departments. Underneath all of them comes the hardware and the devices, and finally the data and information. Among them, there are several technologies and other systems that we have divided into six categories: hardware, virtualization operating system, runtime, applications, and data.

The first type is Infrastructure-as-a-Service (IaaS): In the IaaS, you pay to use the server, Virtual Machine, Storage, and Network. This means that only the following two classes are provided, hardware and virtualization.


The second type is the Platform-as-a-Service (PaaS): in the PaaS, you pay to use on-demand services for developing software, including testing, delivering, and managing software applications, the user is only worried about the software and data, the other four classes will be provided by the cloud.


The third type is Software-as-a-Service (SaaS): In the SaaS, you pay monthly to use a specific software, such as Adobe's products or Microsoft Office programs within Microsoft 365. This means that you don't worry about anything, and you are just doing your work, and the cloud provides you with everything.


Who are the cloud providers?
Microsoft Azure
Amazon Web Services
Google Cloud Platform
Benefits of using the cloud:
Cost: One of the main differences is the cost, in the cloud you pay according to the use of resources or according to the number of your users, so compared to the local server, the cloud costs is much lower, because you don't need any physical hardware or servers. You don't need IT staff to monitor your network, so it also reduces the cost of maintenance and management.


User experience: Another effective point that plays a fundamental role in the success of any business is that you can quickly publish and develop new products and services through the cloud. This will make you adapt to the customer demands and market changes. Allows you to quickly add or reduce resources as needed.


Security: Your employees may access the company data from different locations and devices and share them with other people, which will increase security gaps, so protecting and encrypting this data is one of the important points and the cloud makes it easier to provide the tools for Sharing and protecting this data in unwanted situations.


analytics and data analysis: You can get a direct analysis and report based on your data, giving you a good insight into your business status and helps you in your decisions.


efficiency: The cloud makes your business more efficient, as it prevents any data from being lost through providing backup and data recovery and you always use the latest versions of programs and receive monthly updates and maintenance.
In short: You can access your data at any time or any place, all costs are set and you don't pay extra, you don't need a very advanced IT team, high security, it's installed easily, you can easily increase or decrease resources, you spend less electricity.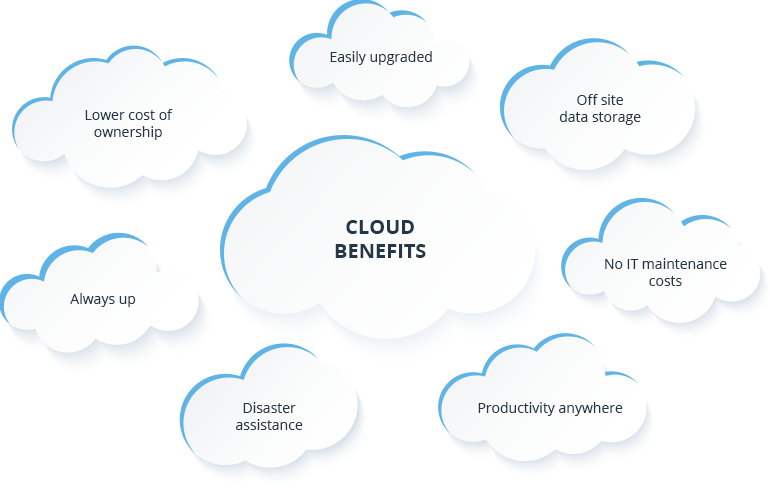 cons of the cloud:
Security: Giving the authority of managing and protecting your organization to another party is a big step to take, so you need to choose a well-known and powerful cloud provider such as Microsoft Azure, Google Cloud, or Amazon Cloud.


Connectivity: you should consider that all work is done on through the internet, so if you don't have a fast and good Internet connection, you may face serious problems.


customization: Unlike the on-premises infrastructure that is built for a specific purpose, the customization in the cloud is in the hands of the cloud provider and because of this flexibility can be limited, so you must choose an offer and package in the cloud that matches your business needs.
What is on-premises?
We can say it's your own physical infrastructure that you bought and installed in your workplace to manage and run the server, e-mail, network, storage. We can talk about the benefits and disadvantages of each of these two ways for a few hours, but the second path is fading in some fields and losing its importance as services in the cloud continue to grow continuously.

Benefits of on-premises:
Security: If you use a local system, you and no one else will have the power to control the data. Your data is physically in front of you directly and you don't need the Internet to access them.


customization: When you use on-premises infrastructure, you can install your systems according to your needs and demands. If changes occur in your customer's wishes and requests, you have everything available and you can update or change offers and solutions.
The bad aspects of the on-premises:
Costs: The capital you spend on local infrastructure and hardware can be very costly, without mentioning the ongoing cost of maintenance, storage, electricity costs, and a special support team.


Data Recovery: you are likely to lose your data in any sudden disaster, so you must continuously backup your data.


Security: You might think on-premises is a safer option to protect your sensitive data but on the contrary, In recent years most of the data that has been leaked has been data that was stored in the local infrastructure, not in The Cloud, whether it was due to inexperience or bad security.
As you can see, both styles have their own good and bad sides, so the decision to choose one may be difficult. Perhaps the most important point to consider is data protection, both styles are protected and provide multiple protection methods and they both require continuous development. if we look at it in terms of scalability, the cloud is many years ahead of the other. But, if you can't just choose one of them, why not both?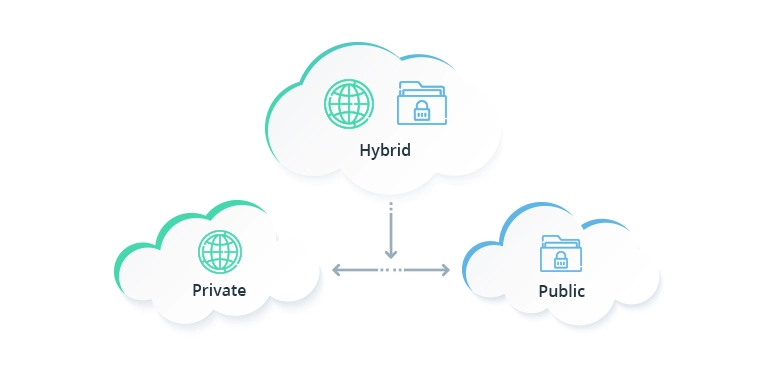 Hybrid environment: Look again at the good and bad aspects of both ways, if you can get only good aspects of both ways and have very good security, compatibility, scalability. Regardless the size of your organization.
You will have control. You can decide which to store on the third-party side in the cloud and which data to store on-premises for more protection.
Your employees can use clouds such as Microsoft Azure, Amazon Web Services, Google Cloud to access their desktops, files, programs, and emails so that they will never stop working, while you can back up your data on your servers so that you can still access your data when the Internet is disconnected.
The decision is yours: Whichever method you choose, cloud, on-premises, or a hybrid environment, it is better to first consider the good and bad aspects of each method. Limiting your organization with just one method may harm you in the future, and only one style maybe enough for you. This means that there is no right or wrong answer. Every organization is different from another and requirements are different. Avesta can help you in this decision and our expert team will give you a consultation to choose an approach that perfectly fits your needs.